Our Lean Six Sigma Consulting Methodology
At MICON, we know that one formula does not fit all organizations. Our Six Sigma consulting program is therefore purposely flexible. We tailor all of our implementations to best suit the client. For example, if the client is a large company with multiple sites and thousands of employees, we usually start with a high level training for the executives to provide understanding of the concepts and culture of Lean Six Sigma and the roles that they will play. We then do an awareness training for mid level management to get them and their staff prepared before the actual implementation. For a smaller company, we may just jump straight into the assessment and implementation as the high level training and awareness can intrinsically be performed.
Our Lean Six Sigma implementations typically consist of the following phases:
- Assessment / Focus Area Identification
- Data Collection
- Training
- Analysis
- Improvement Plan Execution
Once these phases are completed, there is a constant Control phase where processes and their metrics are monitored.
Each implementation is usually conducted over two separate four to five day sessions which is then looped as further implementations are done. The Assessment and Data Collection phases are executed in the first session. The Analysis and Improvement Plan Execution phases are done in the second session.
Training is conducted throughout the duration of the implementation. We use a "Train And Apply" philosophy where the knowledge gained through training is applied in the shop floor right away. This provides the employees with theoretical knowledge of the Lean concepts and tools as well as hands on experience in its implementation to empower them to lead future implementations on their own.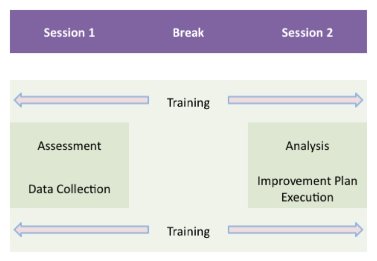 As mentioned before, even the implementation and its phases are tailored to the clients' needs. Certain clients may prefer one implementation per business problem or metric improvement with full involvement from the concerned team. Other clients may prefer to send leaders of different areas with different projects in for a training based implementation where they acquire the knowledge and coaching and then go implement the steps required to successfully complete their projects. Both methods have their pros and cons – the decision on which method to use comes down to factors such as availability of resources, personnel, business size, urgency of business problem, and company vision.
Please contact us for more information on our Lean Six Sigma consulting programs.

Leave "Lean Six Sigma Consulting Methodology" and go back to "About MICON".